EFQM – E-Surveys as a preparatory measure for change processes
In order to discharge change processes, it is helpful to communicate necessity and first steps of change to all participants.
In the beginning of a change process, a change readiness questionnaire should be carried out. Its compact evaluation will show areas with a high necessity for change within the company.
In these areas of high necessity for change, first steps can be implemented quite easily. With fast and easy success usually comes the motivation, the commitment and the orientation towards more success of the people involved in the change process. This ensures a long-term commitment that lasts even throughout the difficult steps of the change process. Additionally, employee and client interrogations can add important points of view.
The Change Readiness survey is based in its structure on the criteria of the EFQM (European Foundation for Quality Management). The configuration of the survey can be adapted to the individual demands of the company or the particular task.
Improved company workflows through Change Readiness Survey
This Change Readiness Survey was carried out in assignment for the BNN EH (Federal Association of Natural Food Retailers in Cologne). It served as an introduction of a two year change process within selected member companies. Sixty companies took part in this project.
The goals was an introduction of operational change processes as a means to improve the quality of internal workflows as well as improved employee and client orientation.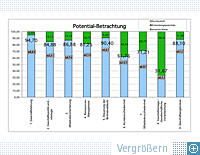 Chart 1
For each participating company, an individual potential evaluation was created at the beginning and end of the project. The green bars indicate the areas of high quality and high demand for change.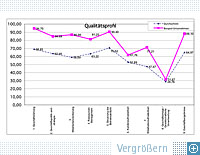 Chart 2
The quality profile also allows for conclusions on the positioning in relation to the class average.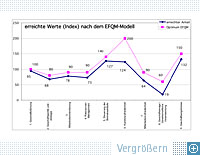 Chart 3
For reasons of improved comparison, the resulting values were converted according to the criteria of the EFQM.
Individual Score Cards demonstrate a successful development
The Change Process was accompanied by additional employee and client evaluations. The successful development could be monitored on an individual balanced sore card during the entire process.